The #1 Project Reporting Program for Poultry Farmers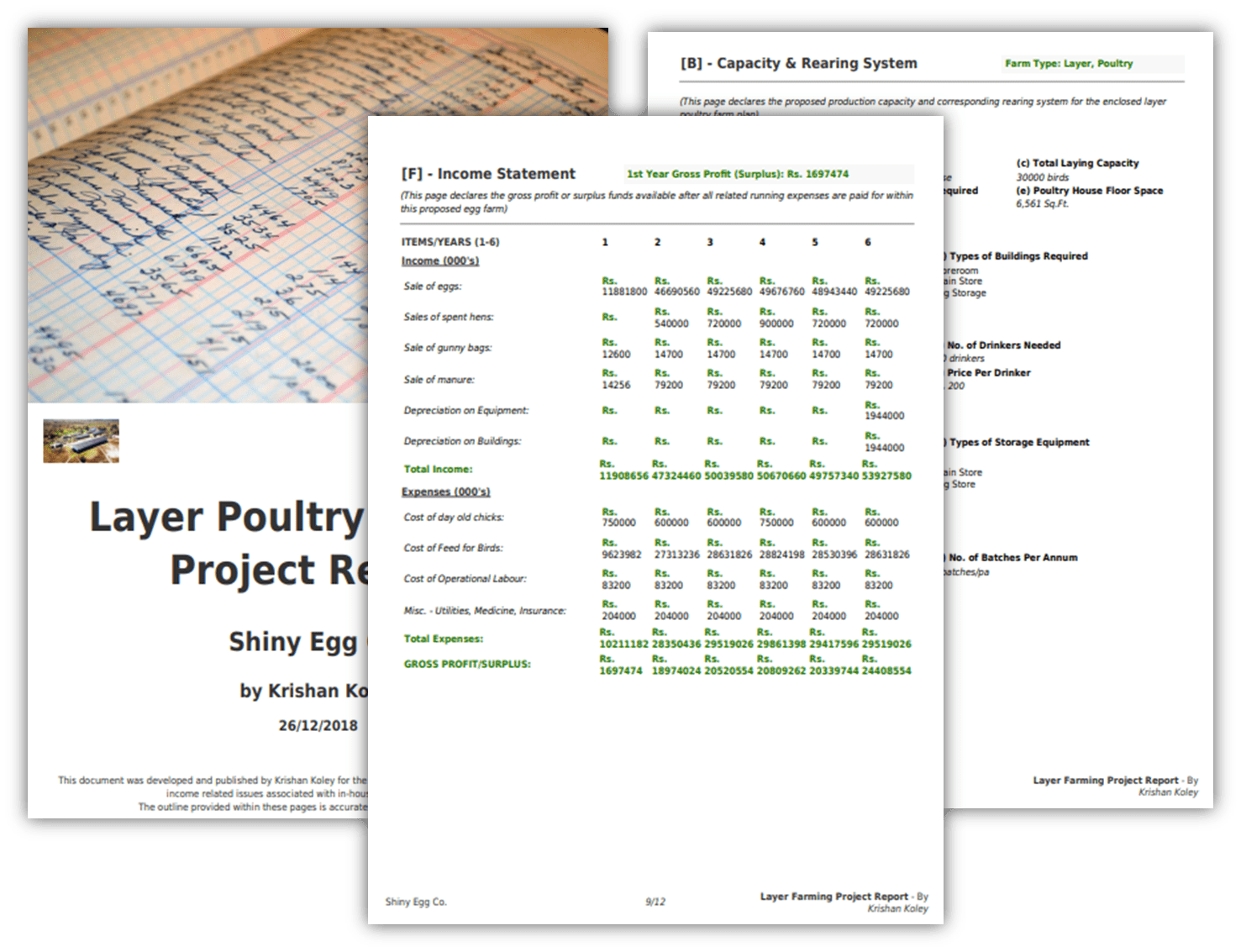 Poultry Project Reporter 2.0 is the fastest and most flexible way to build your winning layer or broiler farming project report.
Make a detailed report in under 90 minutes!
In-built with egg & meat production metrics
Auto-calculate financial statements
Any country, any currency, any breed of chicken
Poultry Project Reporter 2.0 is now available!
Make expert poultry project reports easily,
with ALL the exact production & financial data you need.
What is it?
Poultry Project Reporter 2.0 is the only automatic way of writing an in-depth, professional (bankable) poultry proposal.
(And produces a document identical to the sample in my "12 Steps" article)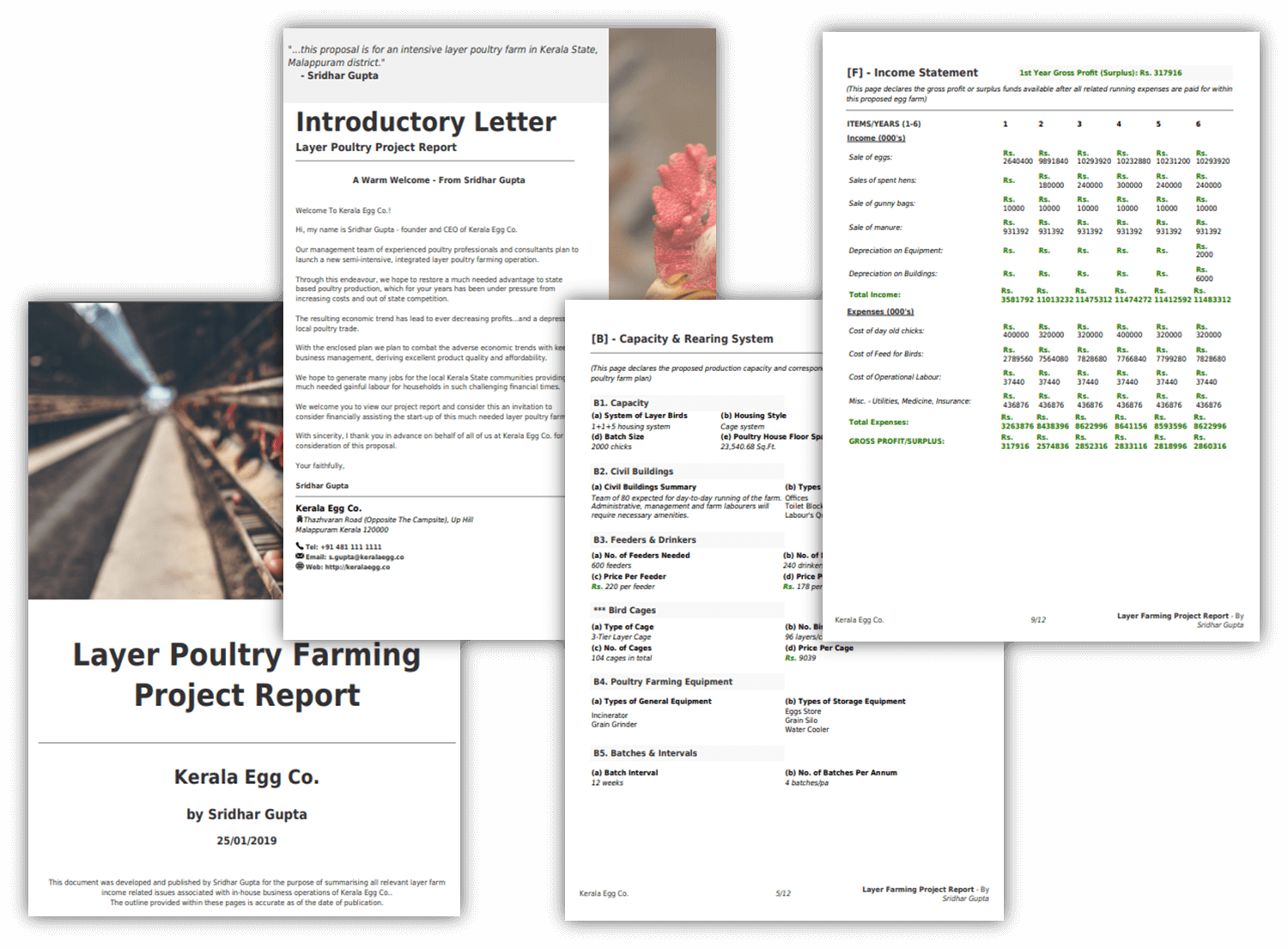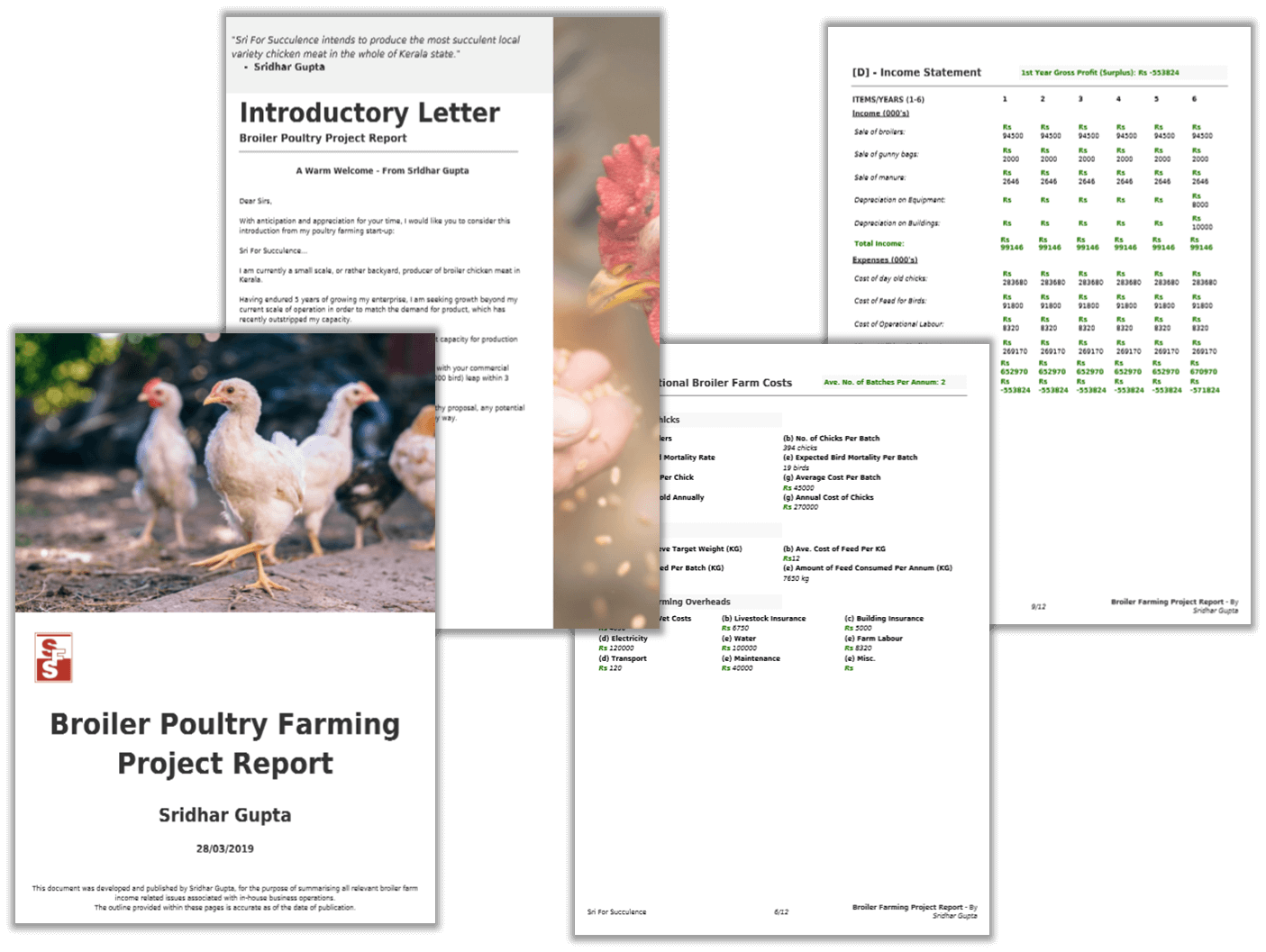 The program was custom developed by Temi Cole (The Big Book Project) on the simple theory:
If you give poultry farmers a practical way to apply REAL market scenarios to the theory learned from research…

…not only will they actually enjoy the process of business planning, BUT they will learn priceless lessons from their mistakes & successes alike.

Temi Cole
My #1 poultry project report software will help turn start-up poultry farmers and professionals alike into effective strategic business planners.
How will it help you?
Engage today with realistic marketplace scenarios & get into the strategic driving seat of your future poultry enterprise.
Who is it for?
So, whether you're about to launch your 1st broiler or layer farm.
Or an experienced poultry farmer planning 'next level' growth.
Or a professional wanting to help your clients get ahead of the curve.
This professional reporting software will help you develop THE winning strategic formula for future business successes.
Meet your program instructor

Hello, I'm Temi Cole.
You may know me from finding my #1 poultry farming business planning resources online: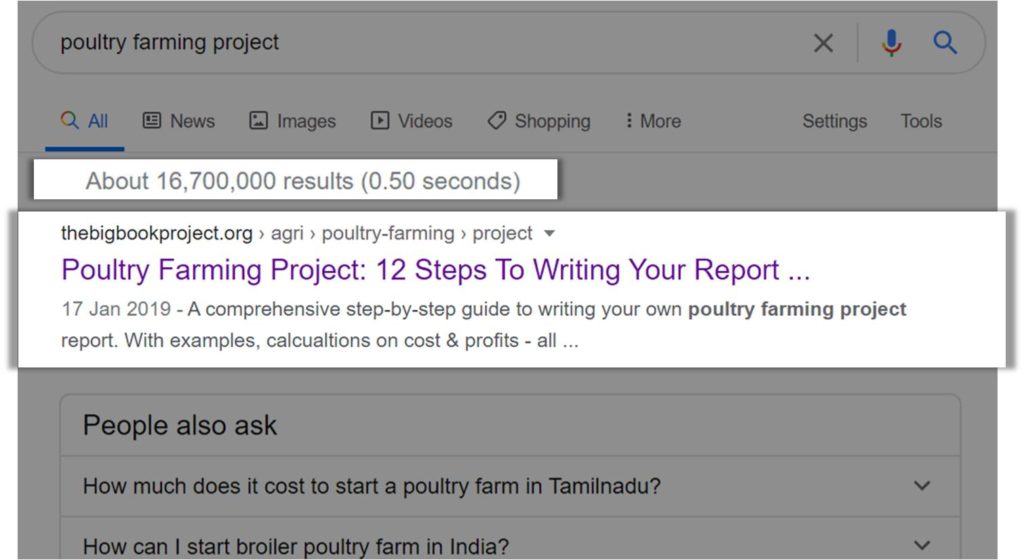 Or, perhaps…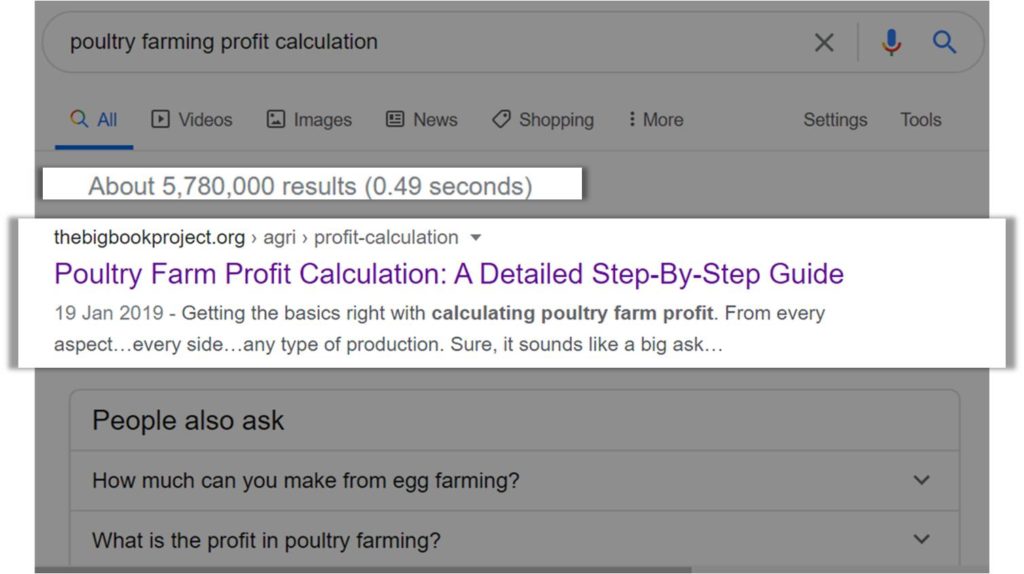 Just in case you've missed them – you'll find they are some of the most detailed learning tools for starting a poultry farm online: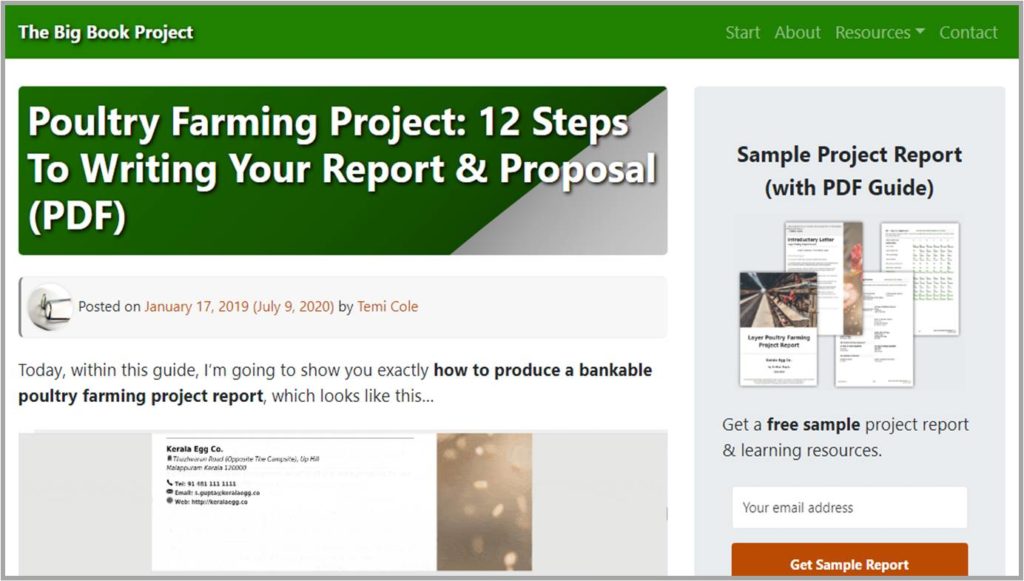 As you'll read next,
I recently developed this poultry farm project software (that actually helps you fine-tune a winning poultry business model).
What's surprising is that I initially found poultry project proposals very confusing.
That is – before digging deep to develop my own winning formula.
My first attempt at producing a poultry project report was a disaster!
I first began researching poultry project reports about 4 years ago.
Like most, I knew the collateral value of a quality project report was MASSIVE.
So, I started looking for sample PDF reports online.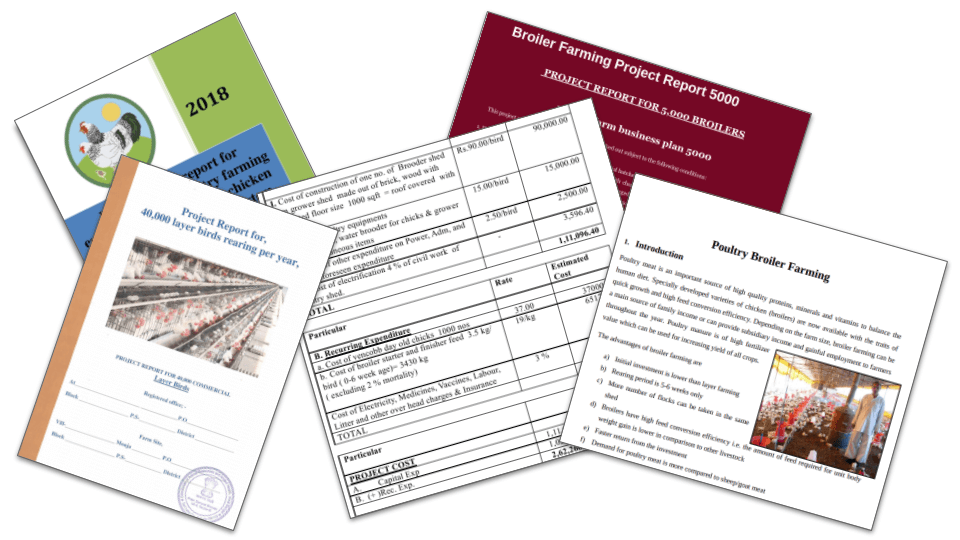 I found they followed a certain format (you know the kind of thing…):
a list of economic parameters
capital cost
working capital
cash flow
income statement
discounted cash flow
benefit cost ratio
net present value
internal rate of return
loan or mortgage repayment schedule
But what I couldn't readily see was how the figures REALLY stacked up.
In others words,
…if you asked me to produce the same thing with my own input…
(Based on those templates) – I would be totally lost.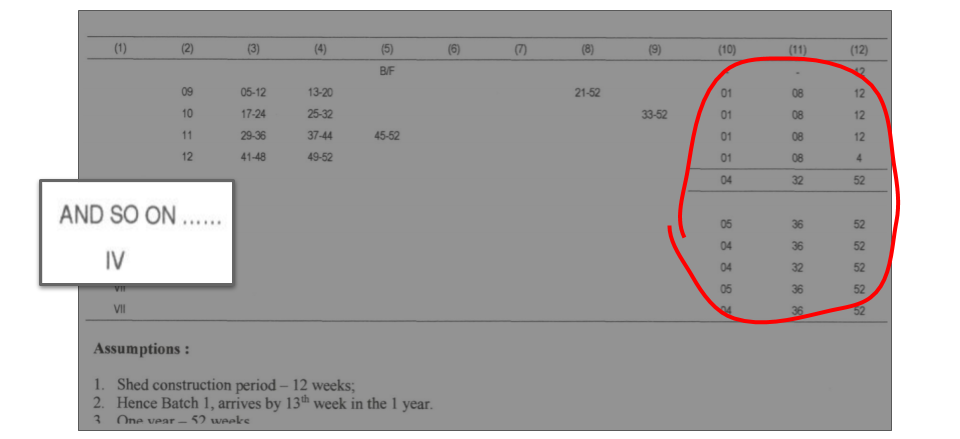 Sure,
…for an economic analyst, pulling together a quality project report perhaps is a do-able task.
But then again, not every start-up farmer just happens to be an ex-economist too.
So, I began to question:
How would a beginner crack their own report?
And more importantly…
…how would they learn to make the most PROFITABLE real-life investment decisions?
That's when I decided to stop taking those sample reports at face value.
I got out my calculator and began decoding and unpicking every step and every calculation – from scratch.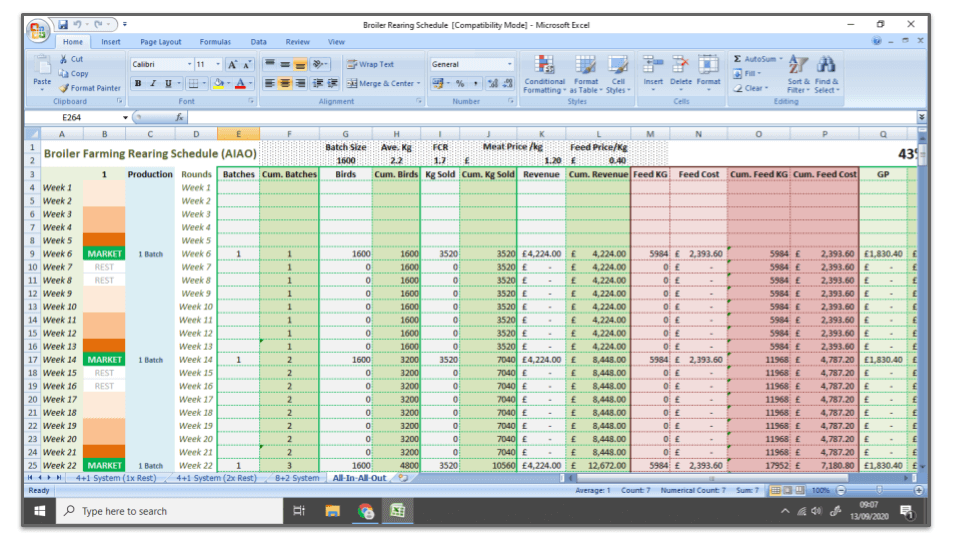 (So, I set myself the challenge of writing my own poultry farming project report.)
Then, something clicked…
The process taught me something VALUABLE!
I must have trawled through EVERY sample poultry project report on Google.
Line by line – deciphering both tangles and knots.
Doing this I learned an important lesson:
Most people think a project report is a funding proposal for getting a start-up loan. Instead, I discovered that funding isn't the real fruit of producing a project report…
…But rather, making profitable investment & management decisions.
By doing this deep dive exercise,
I understood SO much more about what really makes a poultry farm profitable.
I turned this realisation into a system for taking a beginner in poultry and training them into a $100K/year poultry financial planner.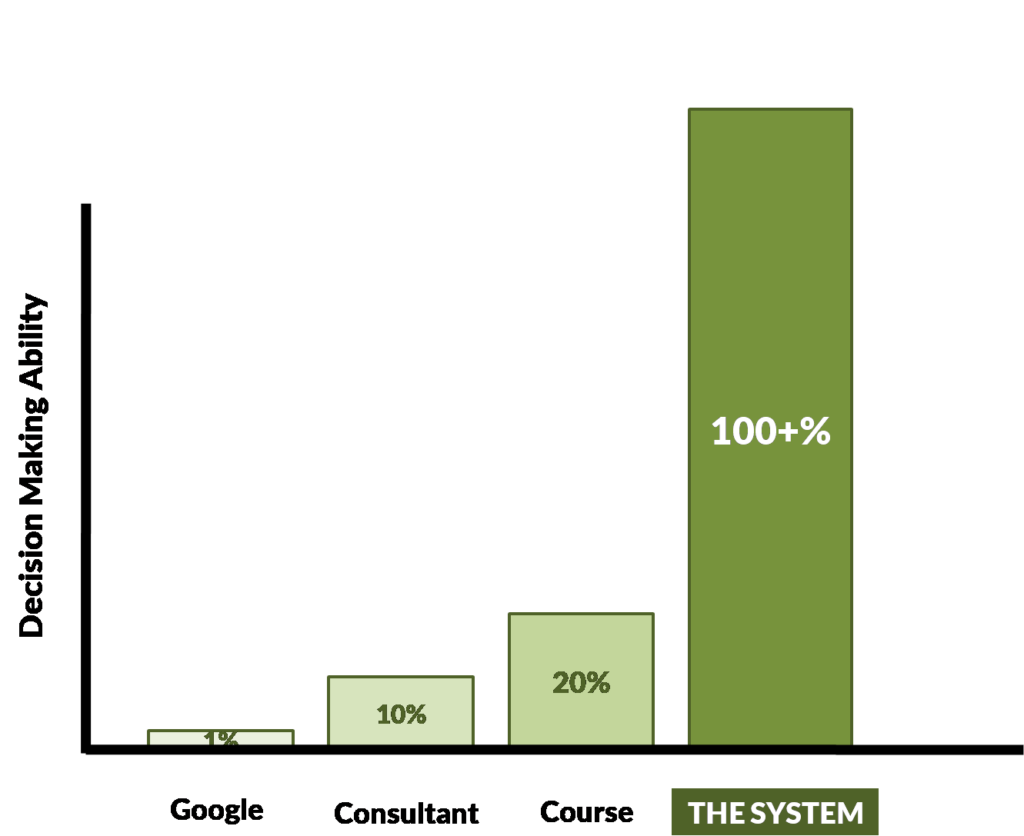 Here's what I did next:
I got documenting my formula.
And applying it to real-life startup farming situations from around the world.
I took enquiries through my website and converted them into sample plans & step-by-step tutorials.
Take this one for example:
And the best part?
Using my system – the time taken and difficulty experienced was nothing.
(Think about it: Even for the most proficient financial planner – a quality project report could take days to perfect).
How long did my system take me?
An hour – MAX.
Because of this proven system that I developed, I quickly was able to churn out both layer and broiler reports of ANY SIZE, ANY WHERE…
…caged
…deep litter
…it really didn't matter, it was BOTH fast and flexible.
And consistently ACCURATE.
That's When I Considered: "Could This System Work for Other People Too?"
I was quite surprised with the results my system was getting.
But, if it couldn't solve the problem of others (namely, the rank beginner) – at best, I figured, I could use it as a consultancy tool.
If the feedback was anything to go by…

…this system of writing a report would have MASSIVE value to those starting out – if only it was built for users.
So I did some fine tuning on theory, then I made it an accomplished step-by-step distance learning program & report generator.
I packaged it to be a software as a service (SaaS) and called it, Poultry Project Reporter.
(It simply does what it says.)
So here we are, for the first time ever…Poultry Project Reporter 2.0 is now open for license.
Introducing: Poultry Project Reporter 2.0
Poultry Project Reporter 2.0 is the only solution that helps you produce pro-reports in a fraction of the time – with ALL the exact data you need.
Here are a few ways that Poultry Project Reporter 2.0 can help you (or your clients) get ahead of the curve:
Know EXACTLY how much money you need to start
Does the job of an expert consultant and presents you with a detailed cost model for getting started.
Perfect your pitch for attracting the right investors.
Backup every angle of your proposal with an iron-clad calculation that eases inquisitive minds.
Project your income over then next 6 years
Develop an accurate outlook for what your REAL take-home earnings should be over the next 6 years.
Weigh up whether it's best to buy land or to rent
Land is expensive either way. Compare cost scenarios and decide confidently.
Discover your best route to poultry farming profits
Use the reporter to test drive various models and methods of making poultry profits.
See clearly how to start in poultry without making a loss
Avoid taking poorly calculated risks. Leap over pitfalls and land into clear poultry profits.
Here's What's Included in
Poultry Farm Project Reporter 2.0: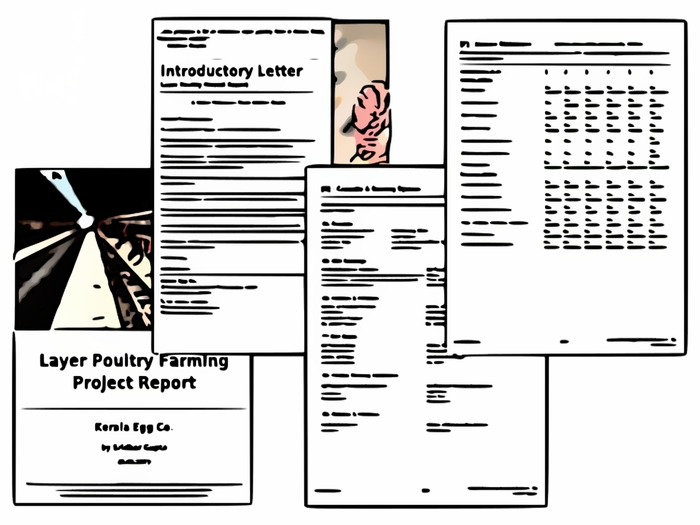 Pro bankable standard format
Including a discounted cash flow calculator – this report is written in the language of bankers and investors.
Auto-calculating fillable fields
The program tells you what figures to input and then does all of the hard work for you. Simply sit back and watch.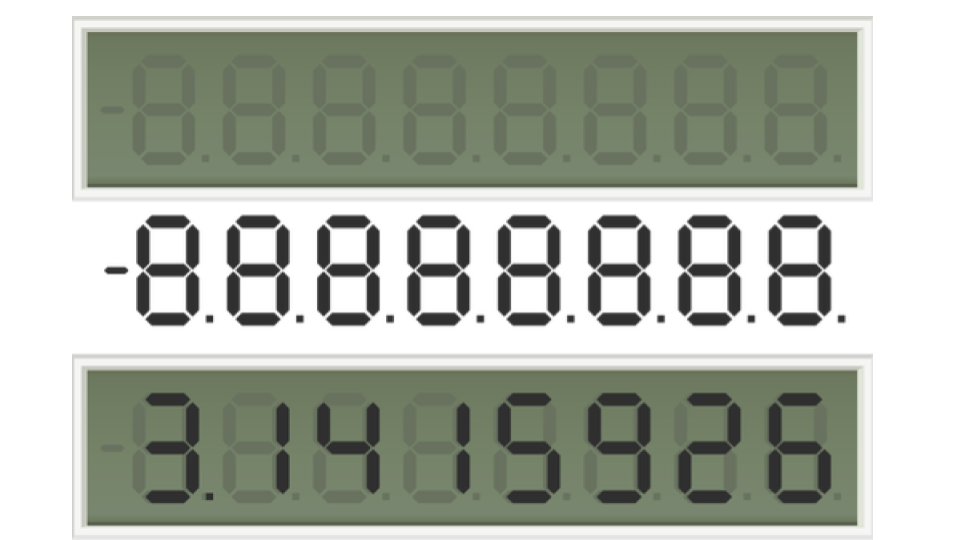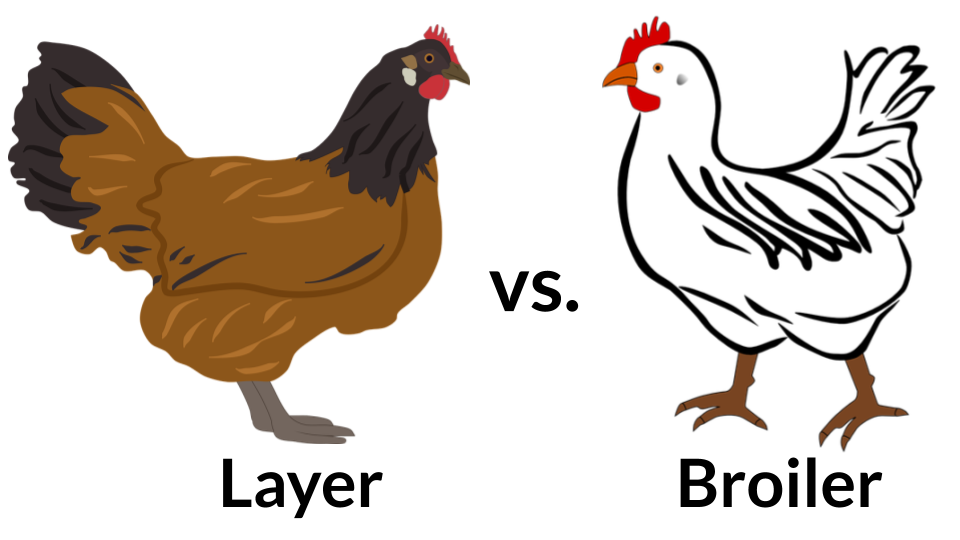 Flexible – master both meat or egg plans
There are 2 modes. Layer and broiler reports. Each comes pre-programmed with its own nuances to give you 1st class results.
Built-In production modelling
See for yourself how changing production model affects your bottom line. This program adjusts the outcome by model chosen.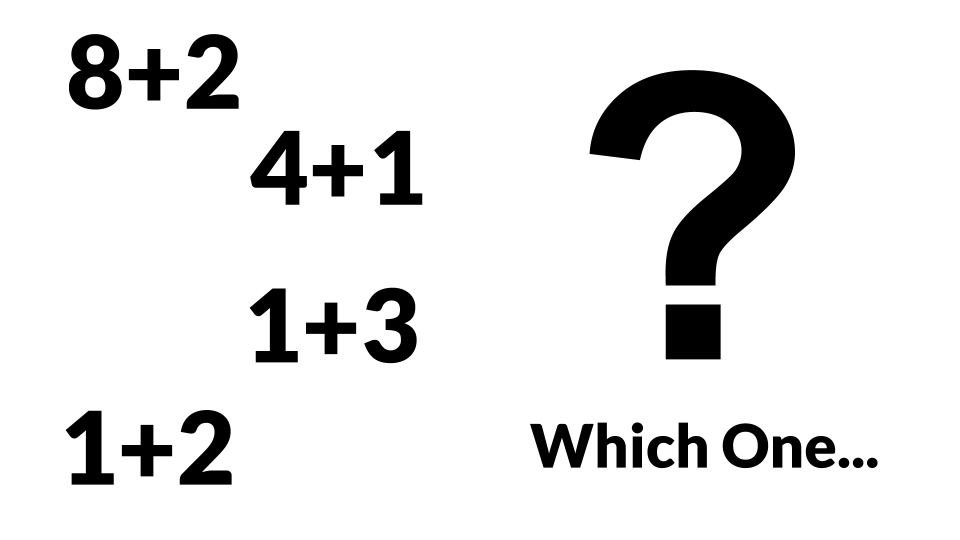 Who is this program really for?
Anyone with a keen business interest in poultry farming will find GREAT value in this program.
BUT (if I were to really spell it out)… I'd highly recommend this if you are…
New or Experienced Poultry Farmer
Whether layer or broiler, this program was built to give you the BEST investment advice for planning your farm's future.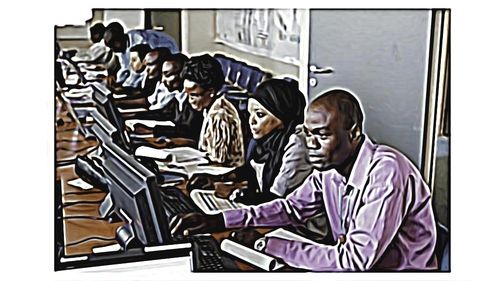 Agribusiness Training Provider
Use this program as a virtual poultry farming business simulator to get your candidates up to speed ASAP.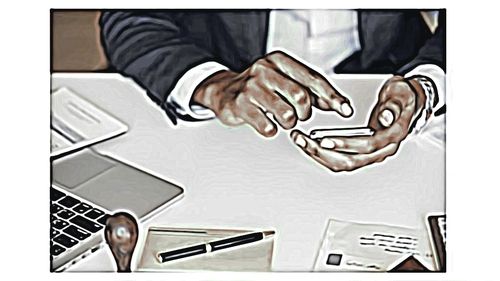 Business Consultant
Draft detailed plans and deliver key investment proposals at a fraction of the time and cost.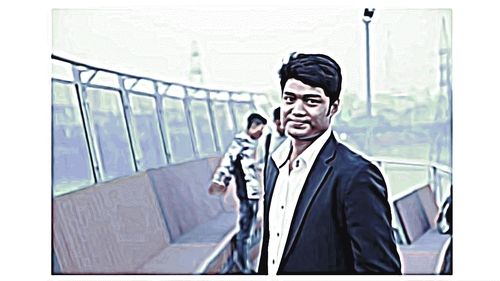 Governmental Economist
Calculate the real impact of policy and macro environmental changes to the poultry industry.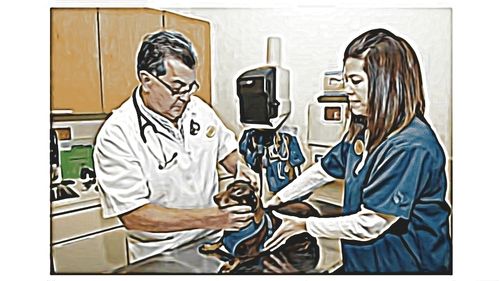 Veterinarian
Advise clients accurately with a well informed 'strategic take' on their poultry business planning.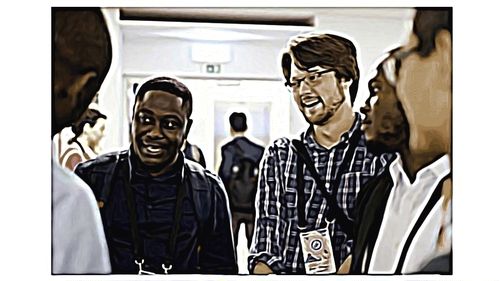 Startup Entrepreneur
Become fully conversant in the intricacies of running a profitable poultry farming enterprise.
This program is NOT for you if:
…you want a report template just to apply for a loan.
…you are not willing to try hard to get things right.
…you think you're buying paperwork.
…you've got no intention of using the advice given.
This program IS for you if:
…you like learning how to get the edge on achieving success.
…you want to know what really makes a profitable poultry farm.
…you are not afraid of making many attempts to perfect your aim.
…you are ready to take action when you realise what to do.
…you consider making improvements is a continual process.
How should the Reporter be used?
Every time I use the Poultry Project Reporter 2.0, I learn something new about making profits from poultry farming (and I use it every day).
To describe it best,
I'd call it a scenario planner AND report generator.
It helps you make more profitable management decisions (PLUS it documents your plan in detail).
Here's how it works in just 3-easy steps…
Step.1
Research all your data inputs – like real market costs and prices.
Step.2
Decide on a proposed model and simple plug-in your numbers.
Step.3
Continually rinse and repeat until you perfect your poultry profits.
It's simple, but answers ALL the questions!
The program is a one-stop shop for answering all your poultry business investment questions.
And it does it with ease.
Intuitive
Step-by-step
Highly detailed
Well explained
– it's a unique learning tool for all poultry business enthusiasts.
When you've completed the program once – you'll find it hard to put it down.
Learn & plan via the web step-by-step:
The layout is very clear and builds up your understanding as you go through it.
Auto calculations = ZERO guess work:
All the summing up is done behind the scenes leaving your mind clear to take in the results.


Fully control your production model:
Adapt your egg or meat production model to hit the sweet spot of optimal profit.
Instant financials – easily done!
The program takes all of your simple inputs and effortlessly converts them into complex financial statements.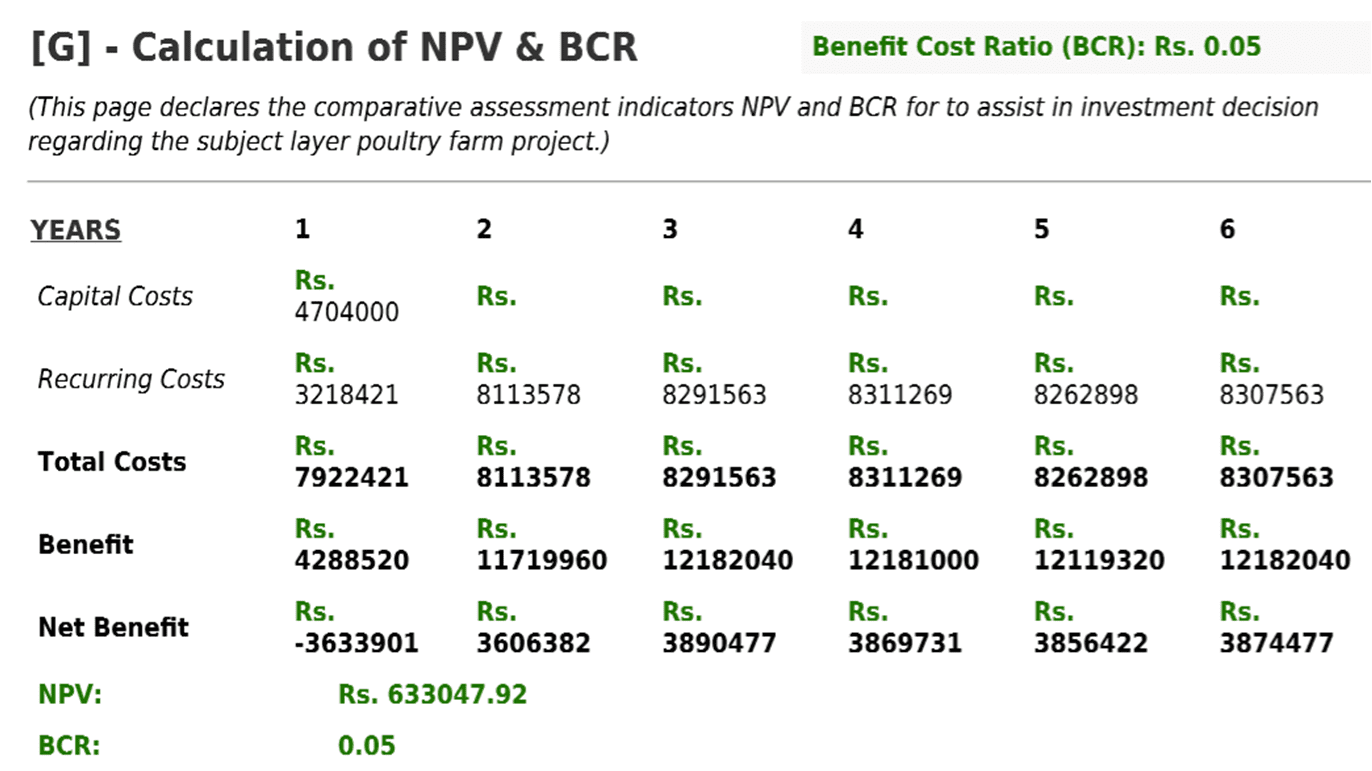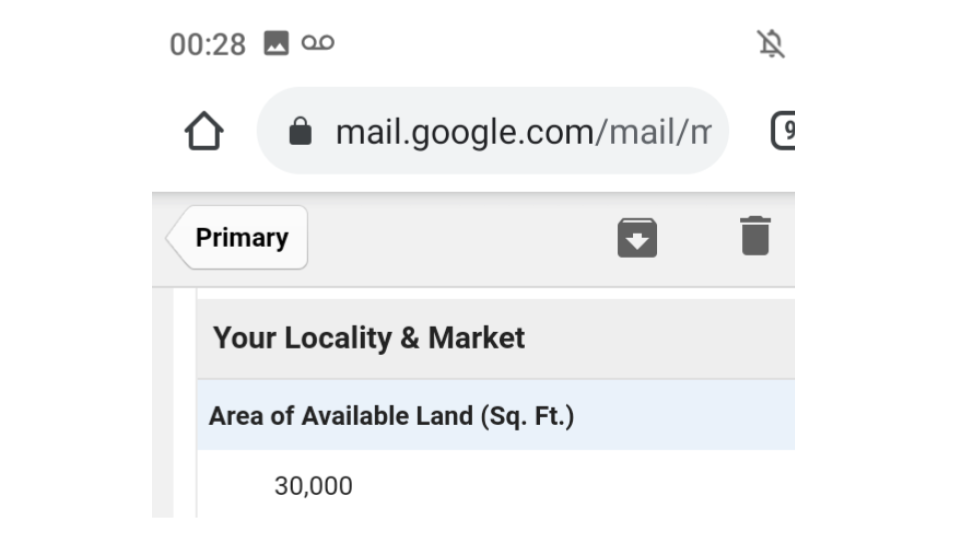 Email results only a click away:
Once done, all you need to do is hit the submit button and the results are emailed to you immediately.
'Look the part' – with the pro PDF:
All subscription levels package up your results into a premium design PDF.
The document is in standard best practice format – as recognised by financial professionals.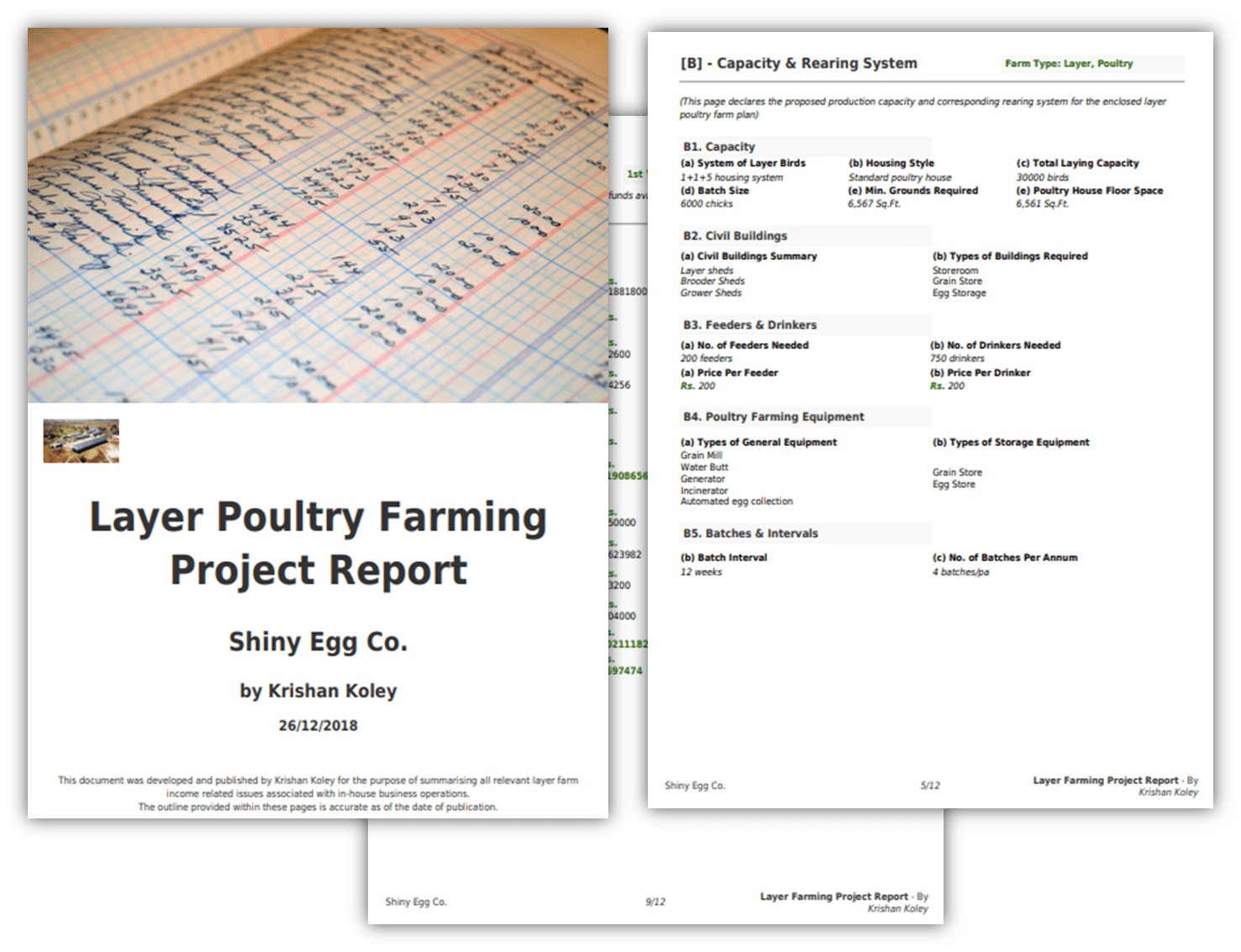 Select Your Plan
(Unlimited Access)
1-Year Business License
Great for writing your own poultry farm project report – FAST.
$197
Paid as one sum
…just 54¢ per day
Both Reporters
*Mobile & Tablet Friendly TOO!
*Broadband Internet NEEDED
Here's what you get…
1 Year Access
1 User ONLY (Person)
Both Layer & Broiler Reporters
Unlimited Attempts
Inc. Support & Updates
PPR 2.0 Insider's User Guide
*Premium PDF Version
Standard Support
1-Year Agency License
Great for producing plans for clients, publishers & teaching students.
$397
Paid as one sum
…just $1 per day
Both Reporters + Add-Ons + Partnership
*Mobile & Tablet Friendly TOO!
*Broadband Internet NEEDED
Here's what you get…
1 Year Access
UNLIMITED USERS (People)
Both Layer & Broiler Reporters
Unlimited Attempts
Inc. Support & Updates
PPR 2.0 Insider's User Guide
*Bespoke White Labelled PDF Layouts
PRIORITY Support
*New: Add-Ons inc. Investor Metrics Dashboard
*New: 180-Day (1-to-1) Project Report Coaching
*New: Pro Reviews & Recommendations Service
*New: Client Referrals To Build Your Pipeline
24/7 Email Support Coverage
We've got it covered.
Your purchase is covered by our 24/7 email support coverage.
If for any reason you need our support with the program, all you need do is email and our team will be at hand to help.
No questions asked.
Click here to email me a question
Your Agribusiness Support Team
An expert learning program
Led by Temi Cole, this learning experience is built for maximum value in getting up to speed on poultry profits.
Web-based fillable form software
Presented in an easy to use online web form, the program takes all of the grunt work out of financial planning.
Step-By-Step Tutorials
Learn fine detail of poultry farming profits with step-by-step guides. The most cost-effective way of getting top class consultancy.
A Quick Start-Up Guide
Hit the ground running – no steep learning curve. Just jump straight in with what you've got to hand.
Fast Response Times
Any questions? Our email series teaches you how to get the best value experience, but we're here to answer questions.
24/7 Support Helpdesk
Any problems? We're always checking over the system to make sure you get the best service.
FAQs
If your question isn't covered here, try our Knowledge Base.
Do I need an internet connection to run this program?
Yes.
You will need a reliable broadband quality internet connection to use this program.
---
Can I use a mobile smart phone to access Poultry Project Reporter 2.0?
YES – absolutely. The project report software runs equally on mobile, desktop and laptop devices.
The PDF output of the form that is emailed to you (upon completion) also can be easily read and is formatted for mobile viewing.
---
Will I get the premium PDF?
All packages include the premium PDF feature.
---
Can I submit this project report to a bank for funding?
The format of the financial summaries contained within these reports are of an acceptable, professional reporting standard.
---
Will it pass as a funding proposal?
A funding proposal includes a comprehensive all-round business plan as addendum.
This project report deals with the metrics and financial metrics.
---
Do they include a production plan?
All the production related calculations in these project reports are 100% accurate down to the last egg or kg of chicken meat.
The parameters are taken from top breeder manuals, plus FAO and leading institutional guidelines.
---
Can it help me calculate income over 6 years?
Yes.
The project report is programmed to produce projections spanning a 6 year time line.
---
Will it tell me how much I need to start my farm?
Poultry Project Reporter 2.0 is designed to help you make real, profitable business decisions.
Included within this is a total project budget for starting.
Both working capital and one-off capital costs.
---
Will tell me what % returns I can expect?
The Poultry Project Reporter 2.0 uses pro tools for analysing future financial returns.
I programmed it to speak the same kind of language bankers and economists use to evaluate opportunities.
---
Will it help me decide if I should rent or buy land?
Yes.
You can run the Poultry Project Reporter 2.0 to show you a profit comparison between renting vs. buying land.
It will give you an end result for both scenarios.
Its a great way of weighing up such (otherwise) difficult decisions.
---
How will the program help me to avoid making a loss?
As a strategy planner, the program helps you by running multiple example production/financial scenarios before starting for real.
Learning from the program helps you make more informed poultry investment decisions.
---
Can the program perform cash flow analysis?
Yes, absolutely. (Without ANY programming from you.)
All built-in.
Discounted Cash Flow analysis is also included. This instrument is often used by business brokers for the purpose of valuing poultry farms for sale.
---
Will it advise me on how much stock I should start with?
By repeatedly running the program at varying stock levels, the program helps you settle on a sweet spot of profitability.
It's a valuable strategic support tool in that sense.
---
Will it help me choose production model?
The program can be adjusted to run all common production models for both broiler and layer farm.
[Note: only Business and Agency licenses allow both layer and broiler format]
Running these modes helps refine your view on most profitable route to market.
Screenshots
An inside look at the Poultry Project Reporter 2.0…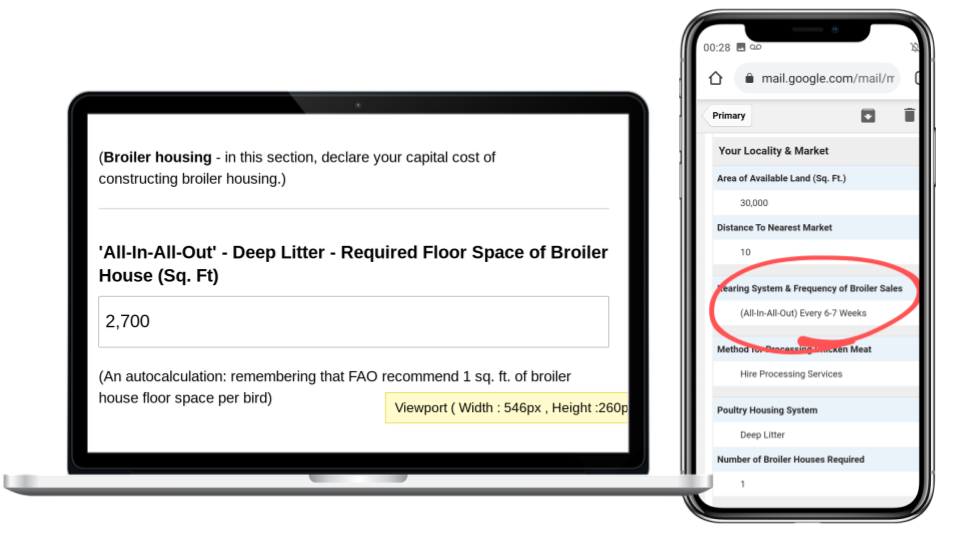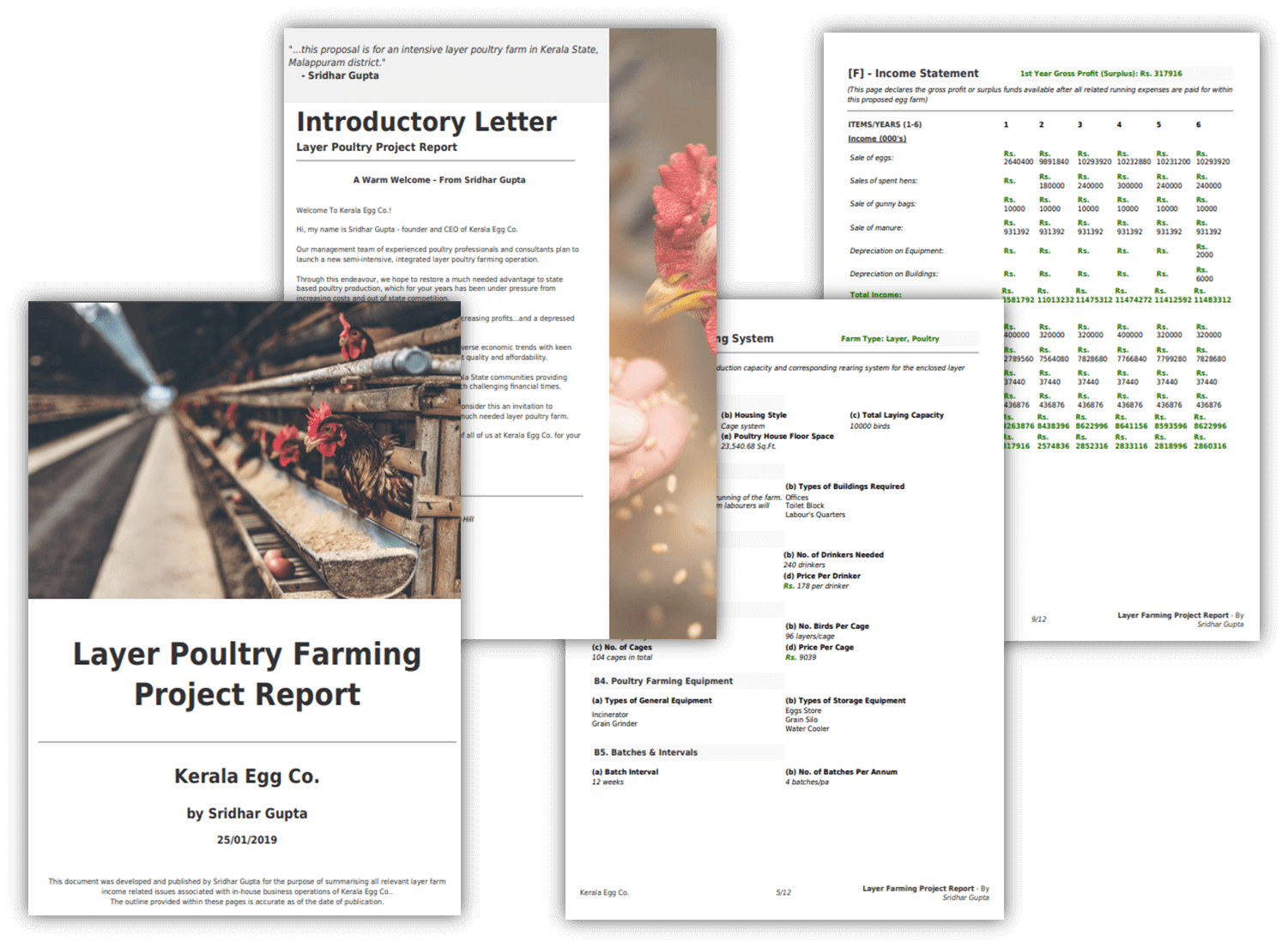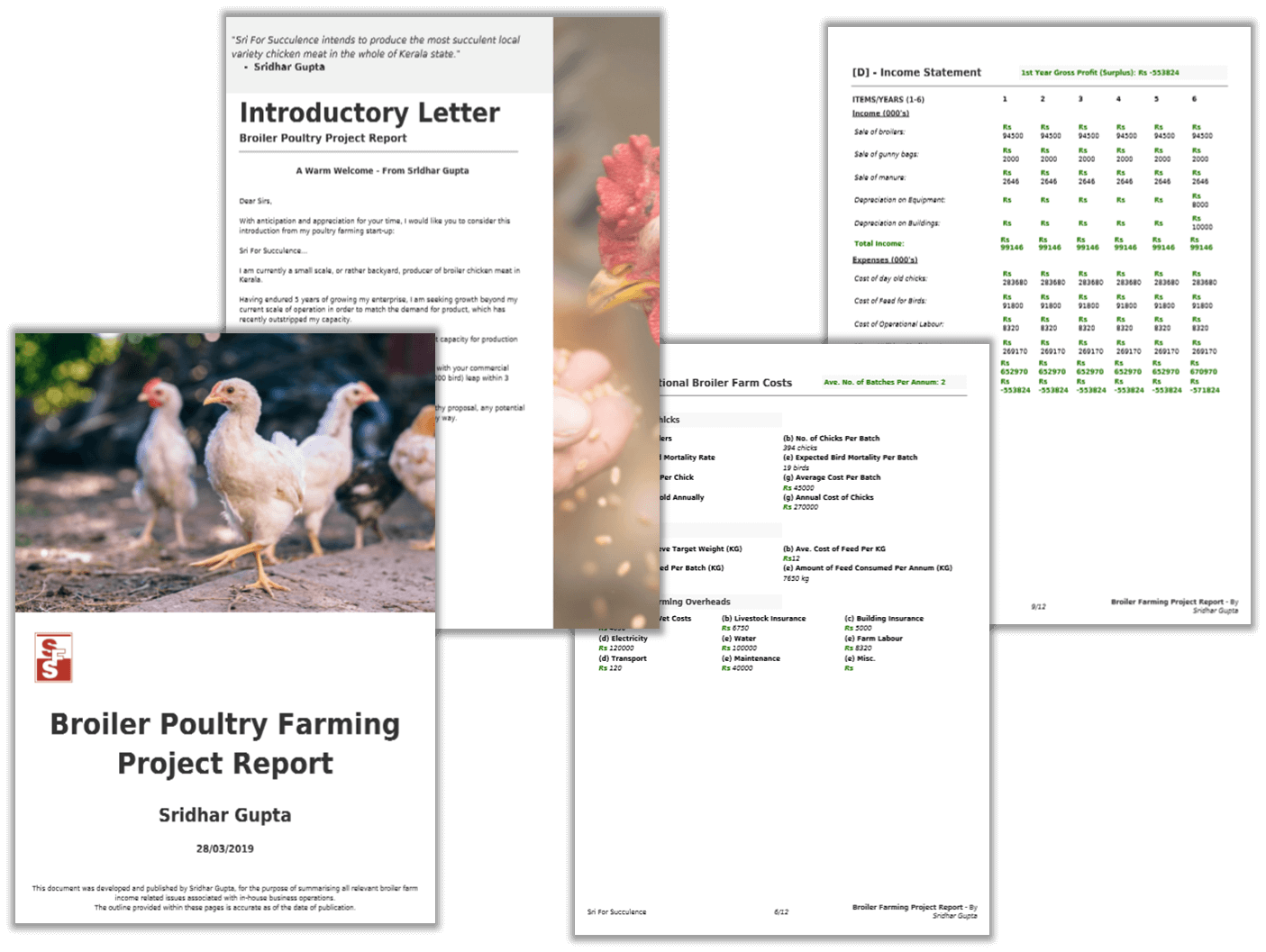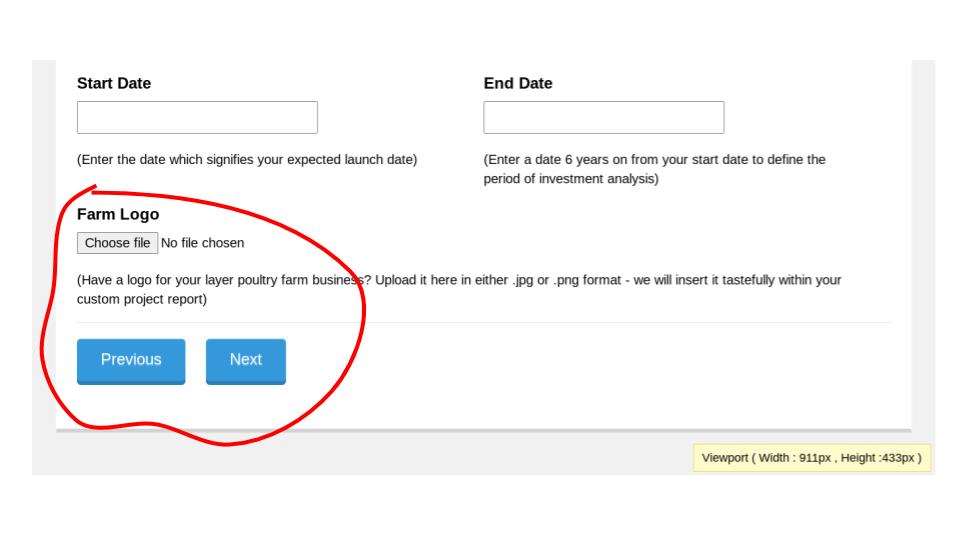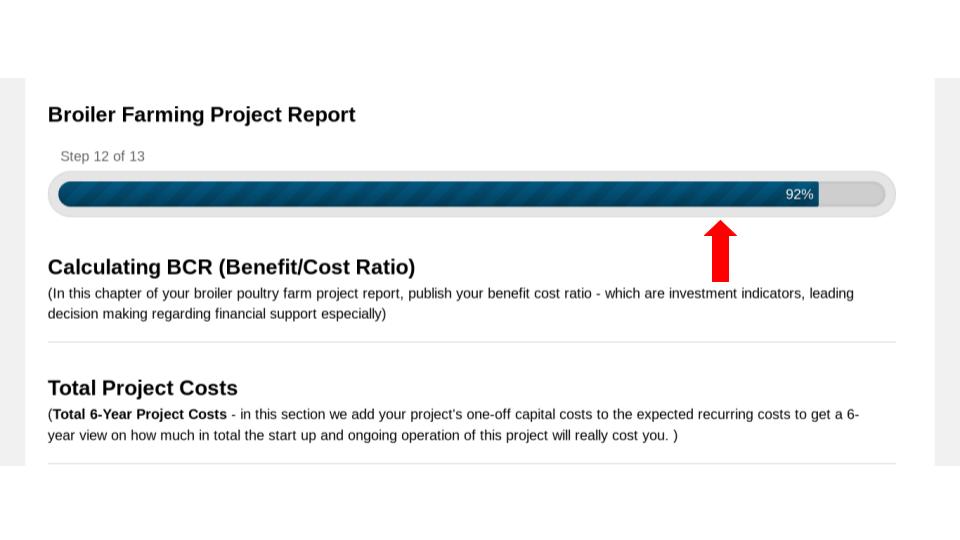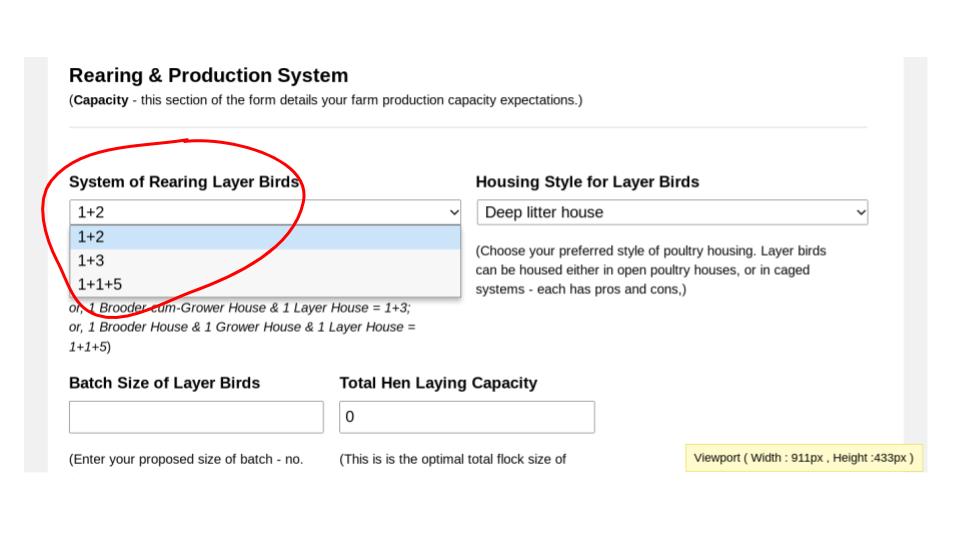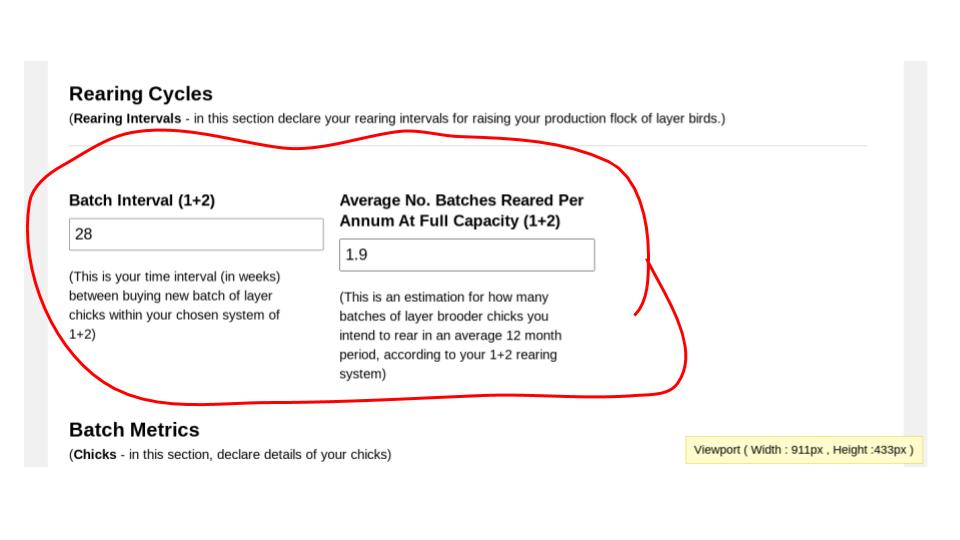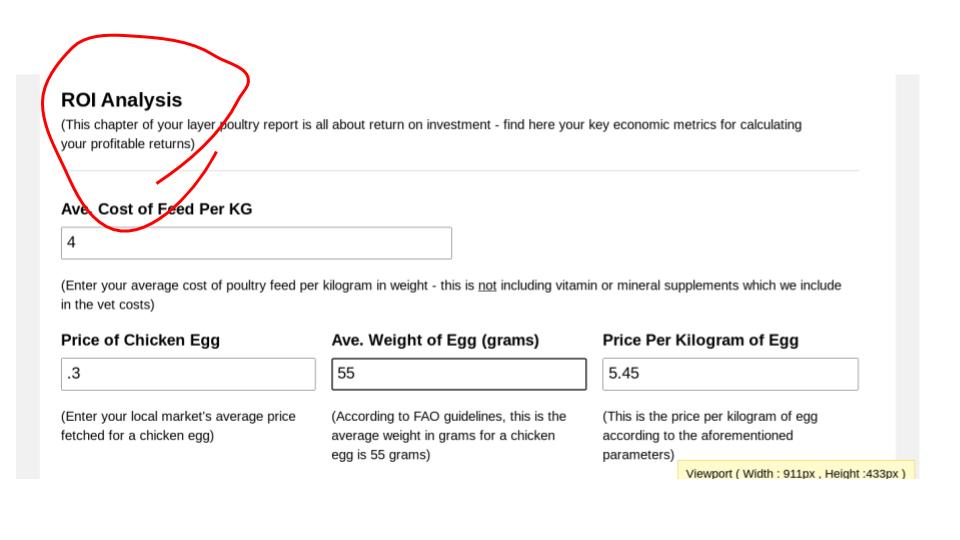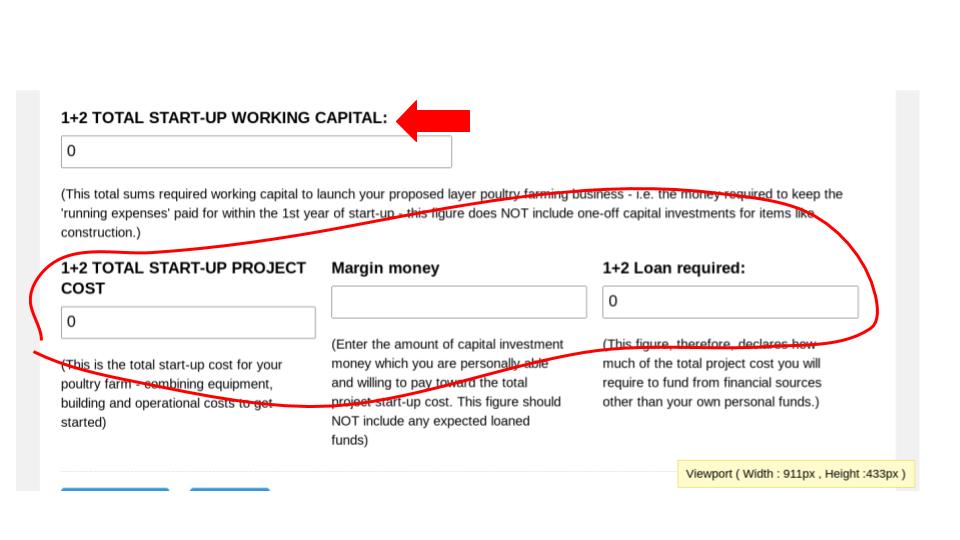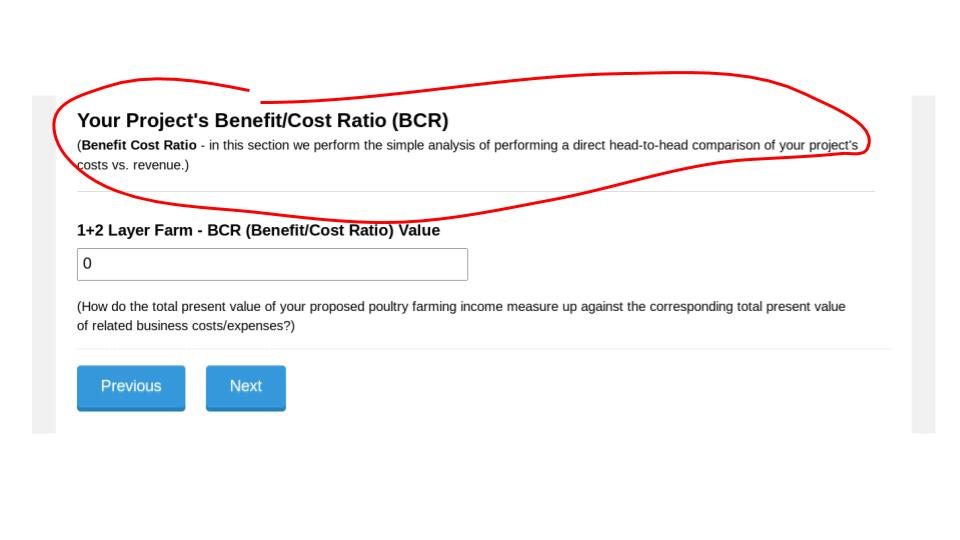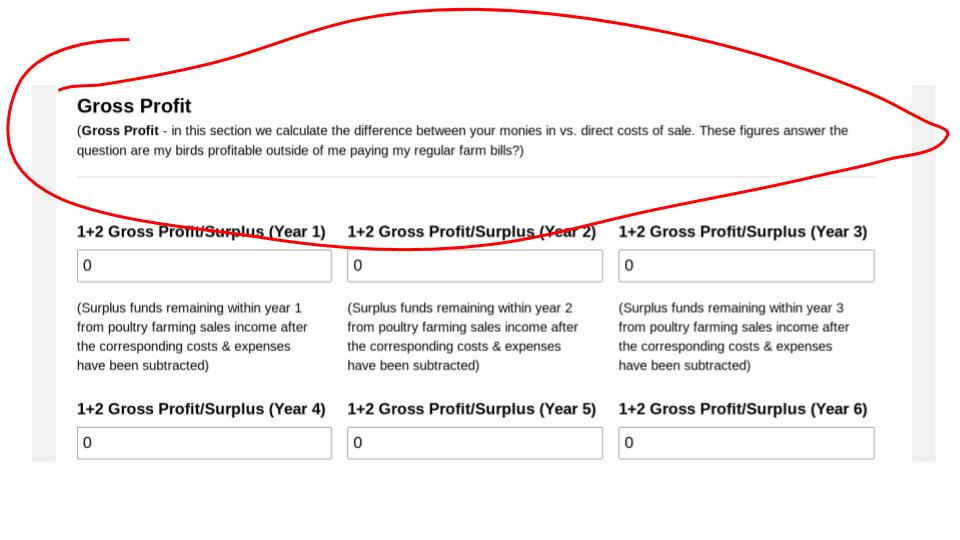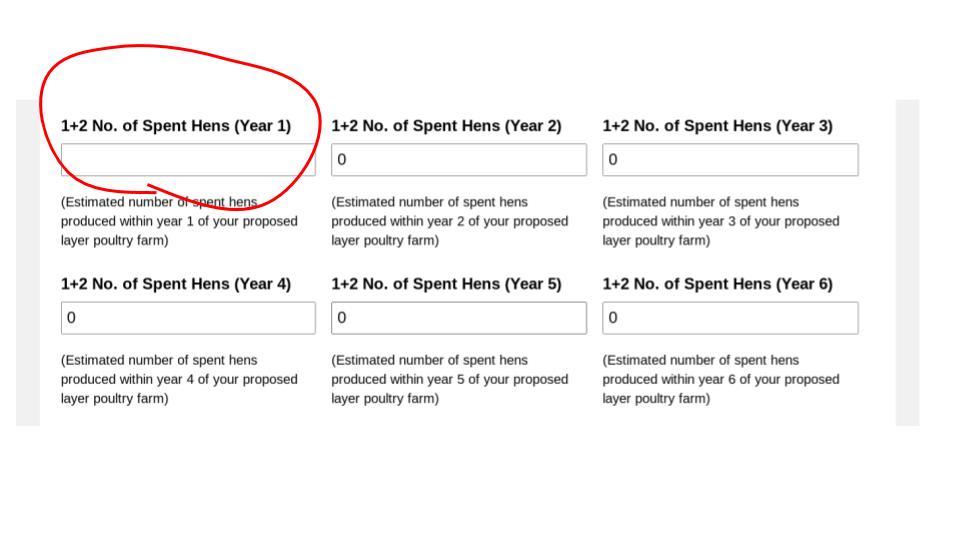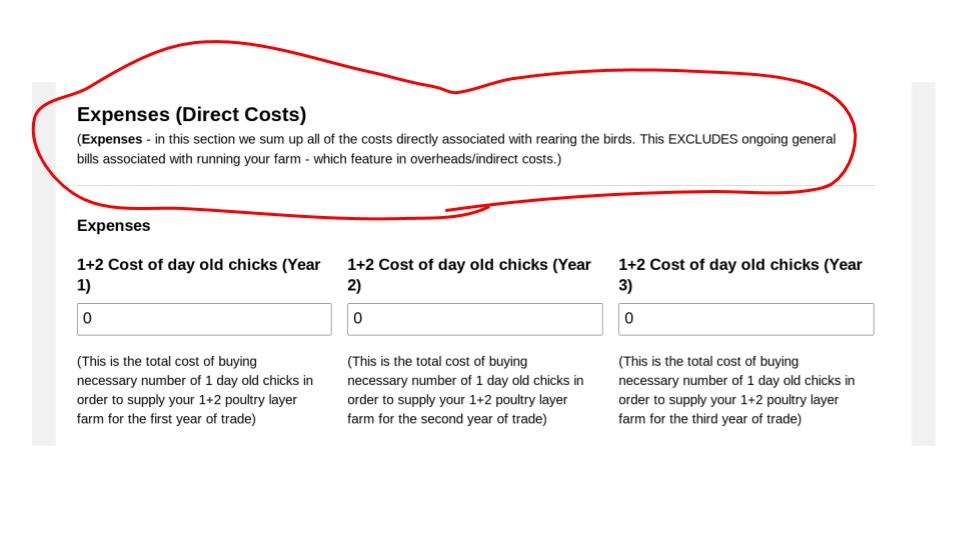 Well done, you made it this far! Now get Poultry Project Reporter 2.0…